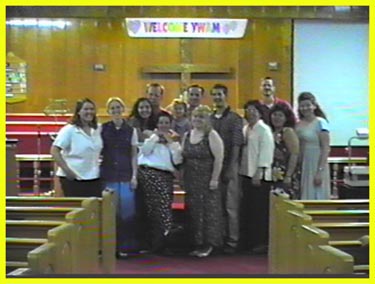 Youth With A Mission
PO Box 78219
Nashville, TN 37207
Phone: (615) 696-3096
Fax: (615) 696-2419
Email:
ywamnashville@compuserve.com
"To Know God and Make Him Known"
Youth With A Mission is an international movement of Christians from many different denominations dedicated to presenting Jesus Christ personally to this generation, to mobilizing as many as possible to help in this task, and to the training and equipping of believers for their part in fulfilling the Great Commission. As Christians of God's kingdom, we are called to love, worship and obey our Lord, to love and serve His body, the church, and to present the whole gospel for the whole man throughout the whole world.
Mission Adventures
Nashville - Yucatan
The Mayan Indians of the Yucatan Peninsula have traditionally been a conquered people since the Spanish invaded in the 1500's. The Mayan had the most advanced system of writing in the Americas as well as a remarkably accurate calendar system. However, every aspect of their culture was forcefully merged into the Spanish new order. This has created a people who still see themselves as outcasts. They need the liberating TRUTH OF THE GOSPEL!
Yucatan Outreach Dates:
July 28 - August 6
August 4 - 13
If you would like to support each of the young people involved in YWAM, please send a contribution to the address above. For the Yucatan, each person will require $425 to cover expenses, not including air fare. Many of the youth need support from good people like yourself, and every little bit they receive is a blessing which goes directly to the service of God's Kingdom!
Remember, you don't have to go all over the world to be a missionary for Christ. There are plenty of people here in our community that need Christ in their lives. "If anyone speaks, he should do it as one speaking the very words of God. If anyone serves, he should do it with the strength God provides, so that in all things God may be praised through Jesus Christ." (I Peter 4:11)